I started using the Amazon Fire Stick a year back to watch YouTube Videos on my TV. While watching the video and navigating using the remote, there was an interesting logo that I came across – "Stats for Nerds". Well, in the spirit of "Stats for Nerds", let's crunch a few numbers with Guru Randhawa and T-Series – all on YouTube and analyse who rakes in the Moolah.
As on 28th April, 2020, the most viewed video on YouTube is Despacito, the hit single by Louis Fonsi with ~6.7 Bn+ views. The rights to Despacito is owned by the global record label Universal Music Group (UMG) that closed 2019 with revenues of USD 7.7 Bn. On the other hand, Guru Randhawa – an independent artist signed by T-Series in the year 2015, has managed to garner close to ~7.4 Bn+ views (spread across multiple videos) far exceeding the most viewed video on YouTube by a healthy margin.
T-Series is 1/100th the size of UMG in terms of Revenues. Yet, on YouTube it is the most viewed channel with close to 107 Bn views. The channel second to T-Series is PewDiePie which stands at 25 Bn views as on 28th April, 2020. That is a whopping 4x lead over the closest competitor for T-Series. Apart from it's main channel, T-Series operates close to 27 other channels in different regional languages.
T-Series has had very humble beginnings. What started of as a cassette company producing devotional content around hymns and prayers by Gulshan Kumar, an almost household name in the 90's has now transformed into the biggest digital label in the world (in terms of views and subscribers) alongside being the biggest record label in India. Bhushan Kumar had taken over the reins of the Company at the age of 19 in '97 when his father was assassinated.
Guru Randhawa – The Hit Machine
"Blame it on the overwhelming Punjabization of desi pop culture in the recent past or the addictive nature of his tunes, Guru Randhawa is not losing his envious spot on the playlist India is listening to on loop. If you've missed him on the charts, you've heard him on the radio."
That is how the Rolling Stones described the ascend of Guru Randhawa when he was featured in the year 2019. Guru's hit single Lahore is the most viewed video on T-Series' channel. Ever since he was signed in 2015, Guru has been consistently generating successful hits. In a short span of less than 5 years, Randhawa accounts for 7% of lifetime traffic for T-Series. Just for perspective, DJ Snake has achieved ~5.4Bn+ views in 12 years and Martin Garrix ~4.2 Bn+ views in 9 years. At the current run rate, Randhawa generates close to 1.5 Bn+ annual views on an average raking himself closer to global artists like Justin Bieber and Katy Perry who generate close to 1.6 Bn+ views annually – far exceeding DJ Snake, Martin Garrix, Taylor Swift and even Shakira!
Comparing statistics for around 8 popular YouTube Channels (Top 2 and 6 globally famous artists), I have derived a Subscriber Conversion Rate (SCR). SCR is the number of subscribers divided by the total number of lifetime views for a channel. The average SCR for the entire data set arrives at 0.20% derived by dividing 430 Mn Subscribers with 220 Bn Views. Applying this SCR for Guru (since he does not have a separate channel – all his videos are a part of the T-Series channel), ~14.4 Mn+ subscribers have been added through his videos alone to T-Series, a whopping 11% share of the entire 137 Mn+ subscriber base.

Guru Randhawa's rise to popularity has been fuelled collectively through his independent music and presence in Bollywood. Recently, he has collaborated with global artists Pitbull and Jay Sean. Randhawa's songs are easy on the ear w.r.t. lyrics and tend to have a wider audience base right from Lahore, Made In India, High Rated Gabru, Suit, Slowly – Slowly to the latest being Surma Surma. If we look at the recent trend in the music industry, it has truly transformed to being easy on the lyrics compared to the 80's and 90's which was characterized by intensively intellectual writing and complex musical notes. This trend has not just played out in pop music but across all genres – K-pop, Latin Music where you will surprisingly find an English insertion amidst their regular chorus in the song.
Moving beyond Randhawa, let' s get back to T-Series.
Well, T-Series is not just a record label. It has been producing movies in India and the YouTube channel gives it just the right piece of the digital ecosystem that has helped it capitalize on the Jio effect in India resulting in a global dominance. Let's have a look at T-Series' financials for the last 4 years.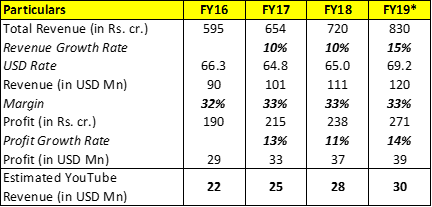 While the actual split of YouTube revenues is not available, Bhushan has quoted in various media reports the Revenue share of YouTube being in the range of 20-25%. Taking the higher end of the range, Revenues through YouTube for T-Series arrive at USD 30 Mn for 2019.
In the world of online advertising, CPM (Cost per 1,000 views) – Cost Per Mile is a widely used term. To advertise on YouTube, companies roughly pay anywhere between USD 2 to USD 10 as CPM. Of this CPM, YouTube pockets 45% whereas the rest goes to the content creator i.e. close to USD 1.1 to USD 5.5 being the CPM realized by the creator. For T-Series at USD 30 Mn Revenues from YouTube and ~7.6 Bn average annual views, this translates to USD 3.9 as CPM realized.
In 2016, Forbes did a study on 5 famous YouTube content creators based on the then-available statistics and benchmarked their Revenue with their subscriber base. The summary is as under: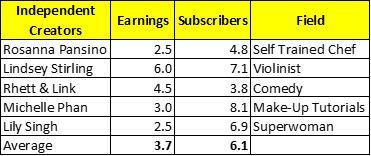 While speaking with various experts on digital marketing, there is no tangible relationship between earnings and subscribers, it would be worthwhile to ascribe a value to understand a benchmark on the earnings potential. At the end of the day, the subscribers are the first line of responders who make sure your videos are an initial success. On an average, this realization comes at USD 0.6 per subscriber.
Coming back to T-Series, at 137 Mn subscribers, the USD 30 Mn Revenues comes to a realization of a measly USD 0.2 per subscriber a 67% discount to the 2016 benchmark leading to the conclusion that there is huge headroom for growth.
Concluding Thoughts
Well, back in 2019 there was a big online campaign and a race to 100 million subscribers between T-Series and PewDiePie. A host of events, controversies and jabs happened finally leading to T-Series emerging as a clear winner. The entire fight was around the premise that YouTube being a "creator's" platform should not be abused by big corporations like T-Series (makes USD 120 Mn in Revenues against UMG making close to USD 8 Bn in Revenues). Finally, PewDiePie appealed to his fanbase to call truce and settled with ~100 Mn+ subscribers.
T-Series today with close to 137 Mn+ subscribers and 27 other channels in various languages is clearly poised to continue it's dominance moving ahead. Looking at T-Series' success, various regional labels have also become popular – think Speed Records, Geet Mp3 etc. in India. T-Series shall continue getting the lion's share of the Bollywood pie and the subset of Bollywood music. Will we see T-Series develop another Guru Randhawa and make him bigger than the present Guru? Will we see Guru 2.0 going above Luis Fonsi? Time will tell us Slowly, Slowly. Until then, here's Surma Surma for you.
This post was made with inputs from Arshdeep Singh and Kartik Murli.
Subscribe to my newsletter here.
If you wish to get me ☕ or a 🍺 you can click here.
Get the latest post alerts directly on your WhatsApp and Telegram. Click on your preferred app name.