Imagine being in the year '97 where no one knows what a computer is, forget about the internet. A man called Sanjeev Bikchandani (SB) while waiting for a job interview observes that candidates are always circling Classifieds in newspapers all the time. These are classifieds for job openings and that is how you get to know about jobs – no internet, no influencer network, no job portal, no "Careers" section. Above all, no favourite company. It is during this time, Sanjeev is parallelly introduced to the concept of 'internet' by his brother in USA. Sanjeev immediately thinks of having an online classified business and Naukri.com is hosted on a server in USA, money for which is paid by his brother. In return, Sanjeev offers his brother a 5% stake in the Company. That is, ladies and gentlemen the commencement of India's very own Internet Vision Fund, Info Edge Limited (IEL).
While history has always taught us, that diversification has always led to trouble amidst companies, IEL is one of the very few rare examples where diversification has provided immense benefit to the company. In an industry dominated by tons of cash flowing from all parts of the world through billion dollar Private Equity, Venture Capital and Hedge Fund entities, IEL has managed to carve a unique niche for itself through prudent investing and making sure the investments pay off in the long run through a very simple focus on its investee companies – focus on generating return on capital employed rather than trying to acquire customers through huge CAC (Customer Acquisition Costs) or Cash Burn.
But before becoming India's Internet Vision Fund, let's take a step back and understand the core business – Naukri.com.
There is a popular saying in the world of tech that goes by
"If you're not paying for the product, you're the product."
Naukri.com is a product of "The Network Effect". At one end you have recruiters and head hunters looking out for CVs of potential candidates while on the other end you have potential candidates uploading their CVs onto the portal for free. Naukri presently has 63 million resumes in its portal as of 2019 that has grown at a CAGR of 11.3% over the last 5 years from 41 million in 2015 – a 1.5x growth over the last 5 years. With this sort of data bank of CVs Naukri has managed to play The Network effect to its fullest advantage. Access to the portal has been kept free for job seekers whereas job providers have to access the portal for a fee. Naukri had 85,000 unique customers as of 2019 which gives them an average realization of close to Rs. 93,000 / customer. Total Revenues from the Recruitment vertical stood at 786 cr. for FY19. While revenues from Naukri.com make 72%+ of IEL's Revenues, it constitutes 118% of total PBIT (Profit before Interest and Tax) for IEL. This number was 135% in FY17 which means that losses from other verticals have narrowed down.
Naukri EBITDA has doubled from Rs. 228 cr. in FY15 at a CAGR of 16% to Rs. 430 cr. in FY19.
What competitive advantage does Naukri have?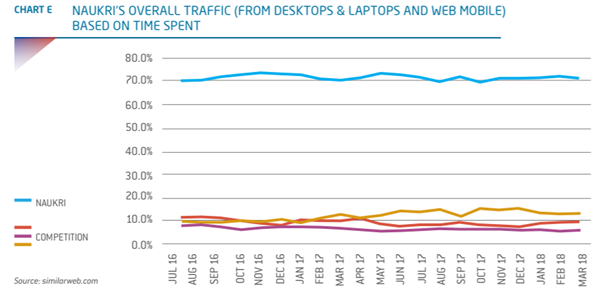 IEL stopped publishing the competition benchmarking w.r.t. its peers from 2019, so let's look at the latest available graph from 2018. While Naukri constitutes more than 70%+ amongst job board searches the closest competitors (Linkedin, Shine/Indeed, Monster etc.) have close to low single digit shares. Will Naukri continue to sustain this leadership position? Time will tell.
Let's have a look at its other verticals – 99 Acres, Jeevansathi.com and Shiksha
99 Acres
When Housing.com was in the news all the time, it was being regarded as the next Unicorn of India and a start-up that is going to single-handedly disrupt the entire real estate industry. In the book about startup accounts "How I almost blew it" there is an interesting quote with which the chapter on SB starts. In fact, it is the first chapter in the book if I can remember correctly.
Housing called us for a merger and said,
"You have the business, we have the product – let's merge."
I said,
"If you have the product, how come we have the business?"
(If you wish to learn about accounts of multiple internet age startup founders who 'almost blew it' and yet managed to come out successful this book is a must-read. How often do we get to read stories of people who made it after failing? This is a rare account of multiple founders)
As on 2019, out of 4.5 million total listings on the platform, ~66% are paid listings. With a total revenue of Rs. 192 cr., this translates to an average realization of roughly Rs. 424 / customer, way lower than the realization from Naukri.com as seen above. While the two verticals are not comparable, there is huge headroom for growth. Most of the advertising around Real Estate is still done on the print media. 99 acres aims to capitalize on the shift in spends from traditional to online media which will benefit it in the long run. It is although worthwhile to note that Revenues has almost doubled from Rs. 100 cr. in FY15 in 5 years at a CAGR of ~21%.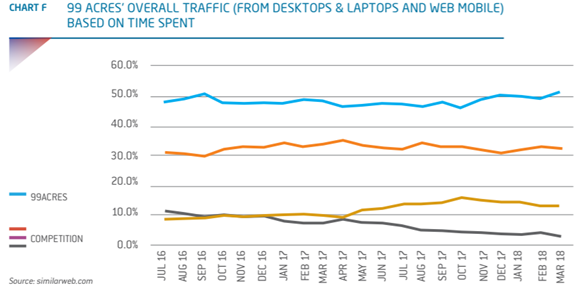 Clearly 99 Acres has a leadership position in the online real estate space, close to 55%+ share. MagicBricks comes in at a close second with roughly 33% share followed by the closest two competitors at low single digit shares.
While 99 Acres has been incurring losses, the profits from Naukri.com has given it a reasonable cushion to function.
JeevanSathi
JeevanSathi is 3rd in terms of market share in the online matrimonial space. While the leaders seem to be clearly Shaadi and Bharatmatrimony, IEL has been making significant investments in the brand building exercise. For FY19, they closed the year with Rs. 72 cr. in Revenues and a Operating EBITDA loss of Rs. 33 cr. They have been clearly focused on expanding in the North and West since the other two players are dominated in South and East – again showing their prudence with Cash Burn and generating incremental Return on Capital Employed.
Shiksha
Shiksha is IEL's educational classified portal. Their revenues for FY19 were at Rs. 48 cr. with a loss of Rs. 2 cr. putting itself on a clear path to profitability. It is IEL's newest business amongst its verticals and would be worthwhile to note that they've done three small acquisitions to enhance their offering:
CodingNinjas (CN) – 25% stake bought for Rs. 37 cr. valuing the company at ~Rs. 150 cr. at almost 27x of it's FY 19 Revenues (Rs. 5.57 cr.). CN is engaged in upskilling and reskilling. How is it different from 10,000 of these portals available today?
Well, they are engaged in models of Income Sharing Agreement (ISA) and Pay After Placements (PAP) that basically aims at charging fees from the students after they have been placed post their upskilling / reskilling. (February, 2020)
UniVariety (UV) – 38% stake bought for Rs. 8 cr. valuing the company at ~Rs. 21 cr. at 2.7x of it's FY 19 Revenues (Rs. 7.6 cr.). UV is engaged in providing counselling products and services to deliver a technology driven career guidance and alumni management platform for schools. (March, 2020)
As per their Annual Report, Info Edge roughly believes it takes 7-10 years for investee companies to mature. They have a similar outlook for their own verticals w.r.t. 99 Acres, Jeevansathi and Shiksha. Info Edge believes that their future opportunity lies in the conflux of faster adoption of internet, availability of internet and proliferation of adaption of digital content. Most of their verticals have superior traffic through mobile.
Lean Financials
Almost 79% of the Liability side of IEL's Balance Sheet is Equity remaining 21% being Current Liabilities. IEL has a negative Working Capital cycle (think FMCG companies like HUL, Nestle etc.) and cash reserves of Rs. 1,617 cr. (~55% of the Asset Side). Return on Capital Employed for the business has been consistent in the range of 18-33% between '08 and '14. However, due to providing for some investments (investments going bad), making fresh acquisitions and increased marketing spends, ROCE has been a little erratic between '15 to '19 in the range of 2-15%.
India's in-house PE Fund – Info Edge 2.0
From time to time, IEL keeps making investments ranging from small to large ticket sizes in internet related businesses. IEL also keeps raising stakes in businesses as and when it keeps growing (MedCords is one example, explained below). In many instances, it has also made partial exits to allow bigger investors to participate in a fresh round of funding (Zomato being one of the instances)
MediCords (MC) – IEL was already holding a 11% stake in MC. It acquired an additional 5.5% stake for Rs. 7 cr. valuing MC at ~Rs. 127 cr. MC does tele-consultations with patients, doctors and pharmacies in Tier – 2 and Tier – 3 cities along with digitalization and on-demand availability of medical records.
So, IEL generates a healthy amount of profits (as seen above) from it's core business Naukri. It then uses the profits to invest into various other companies like Zomato, PolicyBazaar, Happily unmarried etc. (investments form 52% of their total assets).
Neither are the revenues reflected in its financials nor do they take active participation in managing the business. Zomato – A name that is common for all and not only known to the youth but to the elders as well. They currently hold ~23% stake (have been reducing its stake to get bigger investors on-board as discussed above) and their stake is valued at ~Rs. 5,000 cr., a 33x return on their initial investment of Rs. 152 cr.
PolicyBazaar – Reports suggest that SoftBank has also invested in this company. They currently hold ~16% stake (invested at Rs. 576 cr.) and their stake is valued at ~Rs. 1,800 cr. (3x return on investment as on date)
What makes IEL unique and attractive is the fact that one single good investment can reap humungous windfall gains over the years. In this case, examples being Zomato and PolicyBazaar. Currently, as per the management, only 10% of their investments usually fail. Total Book Value of current investments – Rs. 1,167 cr.; Total write off – Rs. 222 cr.
Concluding Thoughts
Internet-facing businesses have a very clear path to the future – they either burn out trying to acquire customers when the entire funding dries up or they become billion-dollar entities. Info – Edge in it's almost 17+ years of existence hasn't burnt out and is already valued at USD 4 billion+. This is excluding the valuation of its stakes in its various investee companies right from Zomato, PolicyBazaar, HappilyUnmarried and others.
It will be interesting to see how the next 10 years pan out since IEL believes that is the amount of time it takes for it's businesses to mature.
This post was published with inputs from Avni Shah. You can follow her on LinkedIn and Twitter.
---
Confused? Hungry for more?
I have done an hour-long industry deep dive on the Internet space followed by a detailed presentation on the company. Find out what people are saying about that here.
---
Subscribe to my newsletter here. 
If you wish to get me ☕ or a 🍺 you can click here.
Get the latest post alerts directly on your WhatsApp and Telegram. Click on your preferred app name.
---
DISCLAIMER: No content on this blog should be construed to be investment advice. You should consult a qualified financial advisor prior to making any actual investment or trading decisions. All information is a point of view and is for educational and informational use only. The author accepts no liability for any interpretation of articles or comments on this blog being used for actual investments.