If you're thinking Airlines would be flying between skies and bankruptcy in the post-Covid world, the answer is 'uncertainty'.
In the recently concluded annual meeting of Berkshire Hathaway, the entire investing world was waiting with bated breath to hear what Warren Buffett (WB) had been buying in this falling market. All WBF (read Warren Buffett Followers) wanted to replicate the success that the Oracle of Omaha had managed to do in the post – 2008 world.
To their astonishment, what came as a surprise was WB selling his entire USD 8 Bn position in 4 airlines at a 25% loss. (WB had been selling throughout the year) While WB did maintain that the long-term growth story for America still remains positive and strong, he did sound cautious and was quoted saying:
"I don't know if two or three years from now if as many people will fly as many passenger miles as they did last year."
Running an airline is tough.
"If you want to be a millionaire, start with a billion dollars and then open an airline company"
This was quoted a while back by Mr. Anand Mahindra, in a tweet when Twitterati were writing to him asking him to buy Jet Airways. The original quote belongs to Richard Branson, the legendary entrepreneur.
This should give you some perspective on how Airlines, globally have run on wafer-thin margins irrespective of time and tide and no matter how big / small / economic or premium they have been.
To quote Gordon Geko from the infamous Wall Street movie (1987), when Fox (Charlie Sheen) made him invest in an airline company:
"Fox, where the hell are you? I am losing MILLIONS! You got me into this airline and you sure as hell better get me out or the only job you'll ever have on the Street is SWEEPING IT!"
In India, airline industry has had a somewhat similar trajectory like the telecom industry where players bet on the demographic dividend that the country has i.e. population which is under penetrated. Both had a somewhat similar outcome, from multiple players consolidating finally into 2–3 players.
Coming to Spicejet
It was still early days for me as an active investor in the stock market in 2015, Spicejet was on the verge of collapse (almost an another Kingfisher in the making), the stock price had come down to almost 12 rupees a share and Ajay Singh was ready to be the "Turnaround Guy". Rakesh Jhunjhunwala picks up a stake at 19/20 rupees a share and the stock ends the year in triple digits. The airline does not collapse and another Kingfisher episode is stopped from happening. Brilliant story. This was, mind you, the best turnaround in the history of any airline in the world.
But this is not about 2015. Cut to 2019.
Spicejet procures most of its aircrafts from Boeing, unlike Indigo which gets most of its aircrafts from Airbus.
Let's start with Boeing
Boeing has been engrossed in a myriad of controversies right from their controversial accounting method of the "unit cost accounting" to their 737 Max fiasco.
Boeing was able to convince the SEC in the USA (SEC is the equivalent of SEBI in USA) to get the "unit cost accounting" method approved whereby they were able to significantly defer the cost of their aircraft developments (acceptable in normal accounting methods / parlance). Everyone was comfortable till this point as long as this was applied to costs. Things got a little uncomfortable when they could do the same with their Revenues!
Basically, the SEC allowed Boeing to recognize revenues based on their expected order book and future expected earnings provided they delivered the aircraft over the next 5–10 to even 15 years. This was as good as building a house made of cards.
Then came the 737 Max controversy which landed Boeing in deep, deep trouble. It basically got all the existing aircraft grounded and made the potential order book of Boeing – worthless giving them a significant hit to future profitability and existence. Along with it, came a host of lawsuits putting significant question mark on their going concern.
This 10-minute video delves deeper into why two airlines crashed. Short Answer – Intense desire to reach on the top and outsmart Airbus came at the cost of safety standards (something which is of paramount importance in the airline industry).
Cut to Spicejet
Spicejet has been successfully flexing its muscle with the DGCA to get swifter clearances for acquiring leases on Jet's planes (after Jet Airways went down), profitable time slots and the close nexus of Mr. Singh with the who's who in New Delhi is not something which is a secret.
ET Prime wrote a detailed piece on this talking about how Spicejet is trying really hard to get a leap ahead of Indigo.
Is Spicejet stretching it's income?
Spicejet owns 13 Boeing 737 Max aircraft in its fleet. As a result of the global ban, these aircraft remain grounded.
Now comes the interesting part.
This is an excerpt from their June 2019 quarterly earnings release which was the first Operational quarter after the March 2019 global ban of the Boeing 737 Max.

Rs. 114 cr. recognized as Other Income.
September 2019 earnings release.

Rs. 178 cr. recognized as Other Income (YTD Rs. 291 cr.).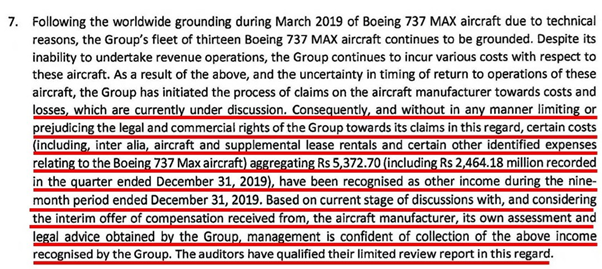 Rs. 246 cr. recognized as Other Income (YTD Rs. 537 cr.).
Being in the world of Finance, we have all heard of Contingent Liabilities but this right here is clearly a case of Spicejet recognizing Income in the form of a "Contingent Asset". Here's what Para 33 of Ind AS 37 states:
Contingent assets are not recognised in financial statements since this may result in the recognition of income that may never be realised. However, when the realisation of income is virtually certain, then the related asset is not a contingent asset and its recognition is appropriate.
At this point, one may take a view that this is a lot of stretch. On the other hand it is also important that the management of Spicejet is impeccably transparent in disclosing the true nature of recognition of their income
So what did the auditors, SRBC (EY) do?
They qualified their report.



However, the overall opinion of the Auditors' have not been qualified except for the item of "Other Income" as described above.
Spicejet has issued the following note which has found an "Emphasis of Matter (EOM)" in the Auditors' report.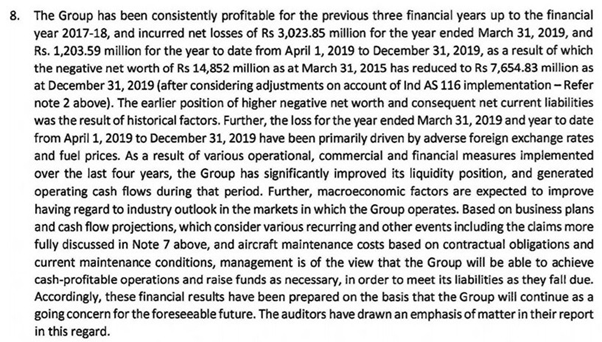 Auditors' EOM:
Let's take a look at Spicejet's financials:
The trailing 12 month loss arrives at Rs. 48 cr. If we remove the impact of Other Income which Spicejet has been aggressively accounting for, the figure shall stand at a loss of ~590 cr. And of course, we shall see a similar recognition in Q4. This might be difficult owing to the Covid – 19 situation. We will have to wait to find out.
Conclusion
Given the range of lawsuits occurring around Boeing and with the Presidential elections in the USA around the corner, mind you Ted Cruz was grilling the Boeing CEO in one of the hearings, the outcome of the hearing can swing to any direction. Recently, the Trump administration offered a USD 58 Bn bailout package (equal allocation of USD 29 Bn each for payroll and airline loans) for the aviation industry but there is still enough fire in the woods which this bailout may not be able to quell. Various airlines took on a lot of debt and did aggressive buybacks in the last few years with the expectation that growth would be significantly higher in the upcoming years. On account of the Covid -19 situation, everything has gone for a toss – all future earnings estimates, forecasts – et all.
As early as 21st April, 2020 – four airline companies have already filed for bankruptcy. Virgin Australia, Compass Airlines (USA), Trans State Airlines (USA) and Flybe (UK).
Right before Covid -19, last year during the month of April, the global availability was 109 Mn seats a week. This has fallen sharply now to 26.6 Mn a whopping 75% decline. In order to return back to normal levels, we will have to see a growth of at least 400%. Will the industry come back to where it once used to be? Time will tell us.
Subscribe to my newsletter here. It goes out once a month.
If you wish to get me ☕ or a 🍺 you can click here.
Get the latest post alerts directly on your WhatsApp and Telegram. Click on your preferred app name.
---
DISCLAIMER: No content on this blog should be construed to be investment advice. You should consult a qualified financial advisor prior to making any actual investment or trading decisions. All information is a point of view and is for educational and informational use only. The author accepts no liability for any interpretation of articles or comments on this blog being used for actual investments.